Description
Safer® Brand Insect Killing Soap (Insecticidal Soap)

This 16oz Concentrate will make 6 gallons of OMRI Listed® insecticidal soap to eliminate soft-bodied insects. One bottle makes the equivalent of 24 Ready to Use bottles!
Safer® Brand insect killing soap utilizes the power of potassium salts of fatty acids (insecticidal soap). The potassium salts weaken the insect's waxy protective outer shell. Apply every 7-10 days when insects are present or as needed to prevent further damage.
Safer® Brand Insect Killing Soap breaks down into its natural elements within 7-10 days, and will not persist in the environment.
Directions for Use:

Print PDF
SHAKE WELL. For best results use freshly mixed solution.
DO NOT use on new transplants, newly rooted cuttings or plants stressed by drought. Avoid application when temperature exceeds 90° F.
Apply when insects or signs of their damage appear. Thoroughly wet all surfaces of infested foliage and branches.
For full instructions depending on indoor/outdoor use and specific plants and insects, please refer to the Instructions link to the left.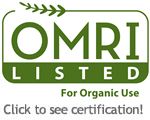 OMRI Listed® and compliant for use in organic gardening. Using insecticidal soap solutions in your garden provides you with aphid control, mealybug control and an overall pest free organic garden.
Safer® Brand is the leader in alternative lawn and garden products, offering many solutions that are compliant with organic gardening standards. Safer® Brand recognizes this growing demand by consumers and offers a wide variety of products for lawns, gardens, landscapes, flowers, houseplants, insects and more!